Clothing
Clothing layers are the key to a comfortable trip to North Haven Resort. The morning boat ride on Utik Lake can be chilly, so dress warm in the morning and remove the layers as needed as the day goes on.  Layer suggestions would be T-shirt, then a quick dry long sleeve fishing shirt, then a sweatshirt (and warm jacket if needed) along with quick dry fishing pants.
Always plan to have your rain gear on hand in the boat since there can be popup rain showers or spray from the boat as you ride around the lake. If you forget anything, don't worry, all of these items are stocked and sold at our North Haven Resort store.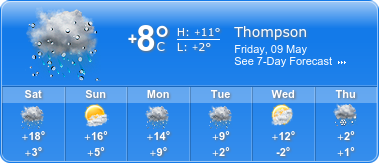 While you are packing for your trip to North Haven Resort, please keep in mind you have a weight limit of 50lbs total per person.  This includes your clothes, carry-on bags and all fishing equipment. We offer daily laundry service so don't overpack. Also, be sure to check the forecast a few days prior to your trip and pack accordingly.
Dress code is always casual at North Haven Resort.
Don't forget
Swimsuit for the hot tub and sauna

Workout clothing if you plan to use our workout room

Polarized sun glasses

Camera or phone for big fish pictures

Passport

Small overnight bag for your overnight stay in Winnipeg

Medications

Sunscreen & bug spray

Dry bag to keep items dry in the boat
June Clothing Suggestions
Waterproof Rain gear

Warm jacket

Long sleeve fishing shirts

Hooded fleece sweatshirts

Insulated underwear

Quick dry fishing pants

Wool or polyester socks

Warm, heavier jacket

Warm, comfortable hiking boots or shoes

Insulated gloves

Warm hat
July & August clothing suggestions
Waterproof rain gear

Quick dry fishing pants or shorts

Short or long sleeve fishing shirts or T-shirts

Hooded fleece sweatshirt

Light to midweight jacket

Comfortable socks

Hiking boots or tennis shoes
Complimentary in your cabin
Your private lakefront cabin at North Haven Resort features all the comforts of home.  You will be treated to a Keurig coffee machine with a wide selection of coffee and tea choices, satellite radio, WIFI, small fridge stocked with bottled water, ice delivered daily, drinking glasses, hair dryer, body wash, lotion, shampoo, conditioner, bath towels, hand towels, warm robes, slippers, pillows and all bedding.
Fishing Tackle
North Haven Resort always provides complimentary use of high-quality fishing rods, reels and tackle during your stay with us. Your fishing guide will have tackle and lures in the boat that are proven to work on Utik Lake. If you'd like to purchase you own lures, the North Haven Resort store is fully stocked with the top lures for northern pike, walleye and lake trout. Our store also offers a large selection of North Haven Resort clothing, Simms rain gear, Buffs, snacks, beverages, commemorative gifts and more.
Suggested rods and reels
        Northern Pike – 7' medium-heavy or heavy weight rods, reels with 30-50lb braided line and 60-80lb

steel or titanium leaders.

        Walleye: – 6' medium spinning rod with medium size reel and 12 to 20 lb line.
Lure Suggestions
        Northern Pike:  Mepps Bucktails, (Anglia size 5, Musky Killer or Giant Killer colors red, black, yellow or white with silver or gold blades);  Johnson's Silver Minnow (4 inch size, color silver or gold); Doctor Spoons (color of gold, silver, green or silver/blue); Half-Wave Spoons (colors red/gold or silver/red);  Spinner baits (3/4 oz or 1 oz size, colors white/silver, dark orange/gold and other combinations); Any 4" to 6" hard or soft body jerk baits in natural colors.

Most successful northern pike baits used on our lakes:

 Johnson Silver Minnow with a 4" white twister tail and a #5 Mepps Spinner.

        Walleye: Any color jigs – we suggest a mixture of dark and light shades depending upon the weather, size 1/4 oz., 3/8 oz. and 1/2 oz. depending upon the wind and conditions during the day, white, yellow or pink twister tails size 3" and 4".
Fly fishing for northern pike
        9', 9wt or 10wt rod with wire tippet with minimum 20lb test leader.

        Topwater flies or streamers 4" to 10" in length.
A Truly Extraordinary Experience
Create your own lifetime of memories at North Haven Resort.
BOOK A STAY WITH US